Collective Leadership Profile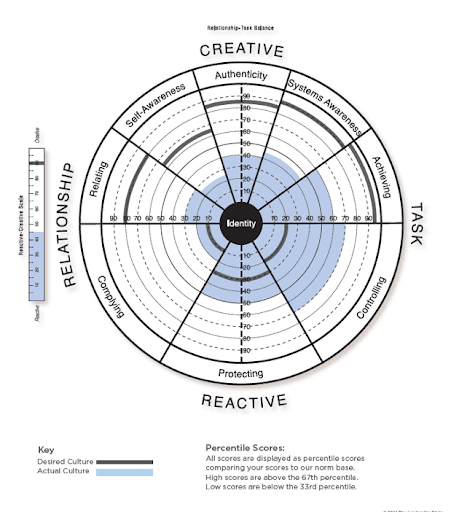 The Collective Leadership Assessment™ (CLA) evaluates the overall effectiveness of collective leadership within teams or organizations. This in-depth assessment compares the current state of collective leadership to desired collective leadership and highlights areas for improvement. The CLA also compares the results to our global database.
Built around the same Universal Model of Leadership™ framework as the Leadership Circle Profile, the CLA applies this framework to groups and organizations, focusing on the impact of collective behavior. A brochure containing details on all 31 assessment dimensions is available for download.
The Leadership Culture Survey (TLCS) is a standardized team assessment that offers a comprehensive evaluation of the leadership culture. This survey helps to:
Identify the gap between the current and desired culture, highlighting areas for team development.
Provide a compelling rationale for change.
Focus leadership development efforts.
Address cultural challenges related to acquisitions, mergers, and restructuring plans.
Link leadership to productivity, profits, turnover, and other bottom-line metrics.
The online survey involves 62 questions answered twice by respondents, once for the current reality and once for desired culture. The gap between the two answers is highlighted, allowing for a focused conversation on the aspects of the culture that need improvement. The 31 dimensions of culture are organized into eight summary dimensions and two overall measures of organizational health. The Leadership Culture Survey provides valuable insights into the current and desired culture and can be compared to the total norm base or any valid industry group. Reports on sub-groups within the organization, from work teams to the entire organization, can also be generated.